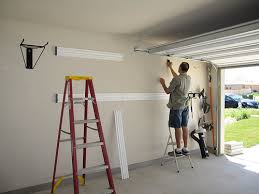 Wondering whether or not it's worth investing in garage door maintenance in Houston? With us, it is. With our experience and commitment, we take maintenance service to a higher level. There is a lot you can gain from our regular service. Garage Door Repair Houston can assure you that the job is done thoroughly by expert technicians. We arrive equipped to inspect and service your door and won't leave before it's tuned up to work at its peak efficiency. It's essential that our techs are qualified pros and factory trained to service any residential and commercial door in Houston, Texas. This means that we are familiar with the specs of each door type and all brands. So we can work on any door and guarantee exceptional results with our garage door maintenance.
What's included in our garage door maintenance service
Since our prime concern is to get to know your door and its weaknesses so that we can take great care of it, we inspect every single part.
If we come across any particular problems, our next step is garage door troubleshooting. With the best equipment, our techs diagnose the roots of the problems in order to provide the right solutions.
If parts are extensively damaged, we let you know if they must be replaced. Since we come fully equipped, we can replace parts on the spot. If you prefer to postpone their replacement, at least you will know what your door needs to operate even better.
We do any garage door adjustment and repair needed to tune up the whole system. This would include fixing the springs, testing the door balance, adjusting the opener settings, and aligning tracks or sensors.
Part of our repair work is to tighten all fasteners to ensure quiet operation. We also lubricate all steel parts to make the door's movement smooth.
The benefits of our garage door maintenance
With regular garage door maintenance service, all parts perform at their maximum capacity. Since they are all adjusted, lubricated, tightened, and aligned, they move right. This reduces noises and prolongs their lifespan. So you save money from sudden repairs and premature parts replacement. You also have a functional door you can trust and use every day without worrying about your safety or the security of your property. We follow a detailed checklist for our Houston garage door maintenance and guarantee excellent service. Call us to make an appointment.